Notify Me of New Listings in
Irvington/Broadway
Sign up for instant email updates everytime there is a new listing in this neighborhood. Our accounts are free and easy to use!
Keep me updated
Overview
Proudly touting itself as one of Portland's more elite neighborhoods, the Irvington/Broadway area combines beautiful homes, elegantly landscaped gardens and yards, broadly sweeping stretches of greenery and parks, and wide streets which deviate from much of the city's traditional grid pattern. This is very much in line with the area's original planners, who imagined a lovely bastion of Portland's upper classes … albeit with a more exclusive bent than would be considered acceptable today.
Most of the homes in the neighborhood are single-family. Houses in this area can range in price quite a bit depending on lot size, square footage and location. Homebuyers who require less space and don't care about a yard may be interested in the neighborhoods condominium market, as there are several nice options there.
The area is typically home to families and older couples, although singles do also represent part of the population, drawn to the area for the spaciousness of its beautiful houses. The family-friendly vibe makes itself known in every corner of the neighborhood, from bustling city parks to neighborhood cookouts to yard sales.
The historic neighborhood contains many old homes, such as the Robert F. Lytle House, which showcase grandiose entrances, large wings and immaculate grounds. The neighborhood's bigwigs are proud of such landmarks, and a neighborhood committee even proposed cutting out many of the blocks that currently comprise Irvington, so as to bring the whole neighborhood in line with the elite ideals that characterize it. They have not yet been successful.
---
Irvington/Broadway Real Estate Stats
Available Inventory
March 2019
Single Family
Condos
Farm
Average Sale Price
March 2019
$670K
-5% from Mar 2017
AVG Days on market
33
Mar 2019
Sold Listings
Mar 2019
10
+0% from Mar 2017
---
Listings in the Irvington/Broadway Community
+ View All
Portland, OR 97212
$1,995,000
8

Beds
10

Bath
9212

SqFt
0.23

Acres
Portland, OR 97212
$1,799,900
5

Beds
4

Bath
5616

SqFt
0.23

Acres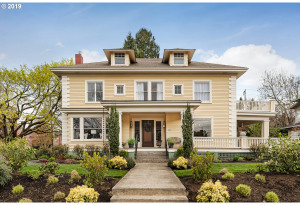 Portland, OR 97212
$1,795,000
5

Beds
3

Bath
5509

SqFt
0.23

Acres
Portland, OR 97212
$1,525,000
4

Beds
3

Bath
5208

SqFt
0.11

Acres
Irvington/Broadway Real Estate Stats
Proudly touting itself as one of Portland's more elite neighborhoods
Available Inventory
March 2019
Single Family
Condos
Farm
Average Sale Price
March 2019
$670K
-5% from Mar 2017
AVG Days on market
33
Mar 2019
Sold Listings
Mar 2019
10
+0% from Mar 2017